Bellisimo collections have been shown across continents winning us love and appreciation from many. Since 2017 our team has collaborated with artisans and creative individuals in designing original products of various genres. From trendy apparel to office accessories and home textiles, we have been successful in curating diverse experiences of unique and culturally inspired products that are aptly suited for contemporary use. Please have a look at our shop for latest available collections.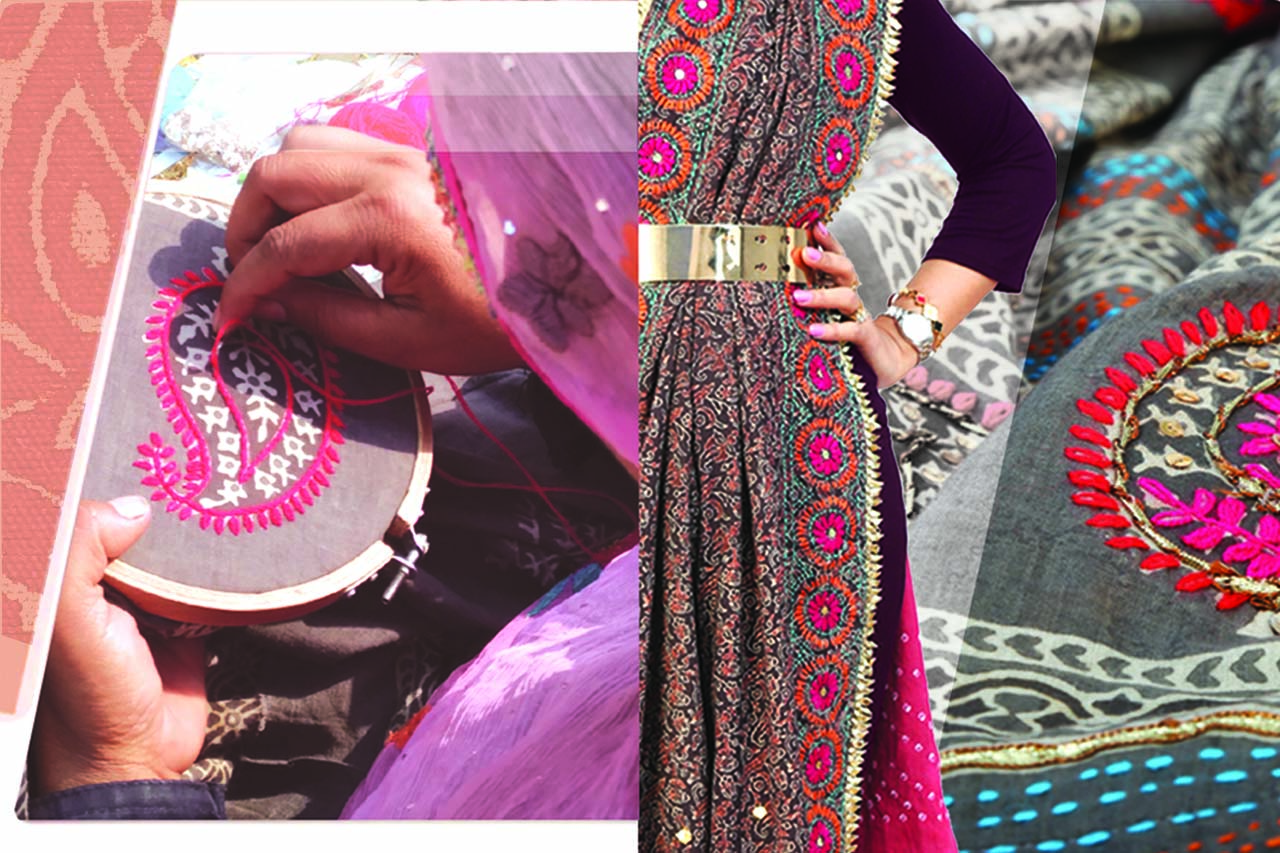 All Bellisimo products carry distinct artisanal aesthetics inspired by traditional design sensibilities in Pakistan and region. We proudly endorse women empowerment, fair trade and giving back to community. We strongly believe that our collaboration with craftspeople is rewarding for the community and we are extremely thankful for your continuous support and participation in this noble endeavour. Here's a sneak preview of our collections to date.
Bellisimo Spring/Summer '22​
The collection was designed and produced primarily for sale in GAAPPNA Fashion Fiesta & Expo at Hilton Atlanta Northeast. With a wide range of prêt, semi-formal and contemporary cultural couture pieces, the collection was designed with an aim to document, represent educate about variety of skills, crafts and artisan practices, to Pakistani and South Asian Diaspora audience in North America. The collection comprised of signature Do Darya Shawls, Haft Peykar table linen sets, Embellsihed Ajrak textiles etc.
Bella Spring Festive 2022
The collection was produced using ethnic and floral prints representing traditional aesthetic and colour palette synonymous with south Punjab and interior Sindh regions. Fabrics were locally sourced from vendors in Mithi, Hyderabad, Multan and Lahore. Cultural embellishments and trimmings such as gota, lappa, kiran etc were used to compliment vibrant palette. The collection was designed, embellished and tailored entirely with partner women artisans.
Inspired by rich ornamental details of classic Persian romance epic 'Haft Peykar', the collection is translated in textiles using premium craftsmanship employing artisan hand block printing and embroideries. The emblematic color palette and fine embellishments bring a rich, desirable and ostentatious experience to your beautiful dining and interior space. This collection table linen; runners & placemats and cushion/pillow covers. The color palette of each item is unique in representing different moods from the historic epic.
Inspired by centuries-old practices Do Do Darya Vol. III is a fine collection of apparel drapes (reversible dupatta and shawls) co-created with master artisans across Pakistan. It is a fable of love where craftsperson belonging to different regions and families contributed their heirloom skill. Each shawl is hand block printed using vegetable dyes in the classic Ajrak technique in Mityari (Sindh), hand tie-dyed with intricate Chunri patterns in Abbas Nagar near Bahawalpur and finally finished with delicate Kadhai hand embroideries and embellishments by amazing women artisans in Multan.
The collection included Chenab Shawls, Rangeen Patka, and signature Do Darya Shawls (second edition). It featured exclusive artisan skills- hand embroideries, hand block printing, organic dyeing, weaving, and stitching. Place of Production: Mityari, Abbas Nagar, Bahawalpur, Multan, and Lahore (Pakistan). Place of the Exhibit: Atlanta GA, Austin TX (United States)
The design team at Bellisimo collaborated with artisans practicing their unique crafts at various villages in Sindh and Punjab (Pakistan), in producing contemporary designs for apparel. Three new products were introduced – Kimono jackets, Chenab Shawl, and Rangeen Patka scarves. Hours after the launch, an overwhelming response and appreciation resulted in many styles being sold out.
Place of Production: Mityari, Multan, and Lahore (Pakistan)
Place of Sale: Canada, United States, and Pakistan
In the summer of the year 2020, Bellisimo ventured into designing and producing experimental accessories for personal, home, and office use. These included face masks, make-up pouches, Mac book/laptop and I pad sleeves, tote bags, sofa throws, and patchwork blankets. The collection was co-produced with artisans from various parts of Pakistan specializing in Ajrak natural block printing, Chunri tie-dye, Multani Pakka block printing, and hand embroidery.
Place of Production: Mityari, Kehrer pakka, Multan, and Lahore (Pakistan)
Place of Sale: Pakistan and United States
The success of the inaugural kids' prêt wear in spring 2020 paved the way for the festive-eastern collection and subsequently, the launch of the Bella exclusive hand-tailored kids wear line under the Bellisimo umbrella. Comfortable fabrics, floral prints, and playful trimmings provided relief for parents looking to buy online or place a custom order for young girls during the pandemic lockdown.
Place of Production: Lahore (Pakistan)
Place of Sale: Pakistan, Middle East, and North America
Long Island Trunk Show 2020
Bellisimo classic Do Darya Shawl (first edition) was showcased as part of Fit Almari studio inauguration in NYC. The collection featured naturally dyed and hand-printed Sindhi Ajrak fabrics paired with iconic Bahawalpur style Chunri tie-dye and accented with Multani hand embroideries and embellishment. This collection laid the foundation in creating signature aesthetics and appeal for future works.
Place of Production: Mityari, Bahawalpur, Multan, and Lahore (Pakistan)
Place of the Exhibit: New York (United States)
This collection was part of merchandise presented by IAC Sanjhok Collective at Shop South Asia a pop-up event as part of the broader business collaboration (ATX+PAK Advance program) between fashion communities in the US and Pakistan. It featured summer Kurta-style bohemian tops employing embroidery and embellishment.
Place of Production: Multan and Lahore (Pakistan)
Place of the Exhibit: Austin TX (United States)
The collection featured a multi-colored embroidered top / Kurtis with hand block printing, embellishment, and tassels. 
Place of Production: Multan and Islamabad (Pakistan)
Place of the Exhibit: Atlanta GA (United States)
Inspired by Bohemian style, the collection aimed to fuse traditional artisanal aesthetics of Pakistan with global boho-modern trends. The fabric for apparel and home accessories was prepared with hand tie-dye, natural dye, woodblock printing, and screen printing accented with hand embroidery, embellishments, and textural trimmings.
Place of Production: Mityari, Lahore, and Islamabad (Pakistan)
Place of the Exhibit: Toronto (Canada)